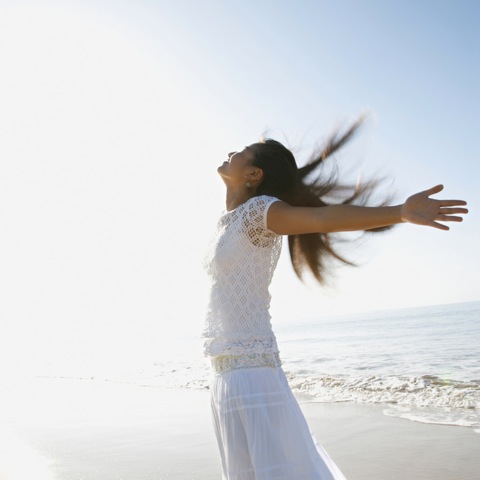 When I told some friends that the secret to inner peace and calm is to just breathe, my great discovery was met with skepticism and disbelief, and even a few chuckles here and there.  But I am sticking to my guns and promise that it is all about the breath. We all breathe every day, all day, from the moment we are born until the moment we die.  We think that we are pretty good at it given the fact that we don't even need to think about it 99% of the time, it just happens.  So, how can breathing be the magical key to calm?
To understand how profound the link is between breathing and finding our inner peace, we must first understand a little more about the breath.  In many cultures, the process of breathing is considered to be the essence of being.  In yoga, the breath is known as the prana or the universal energy that balances the body and mind, the conscious with the unconscious, and the sympathetic with the parasympathetic nervous system.  The breath is rather unique, because unlike other bodily functions, we can control it.  It is both voluntary and involuntary.  The breath offers us the ability to influence the sympathetic nervous system, which regulates digestion, blood pressure, heart rate and other bodily functions.  Therefore, controlling our breath offers us an incredible tool to help regulate our bodies in ways that otherwise are much more difficult to control.
Getting the most out of each breath
So we know that the breath is incredibly important, but are we making the most of each breath we take?
Have you ever watched a baby sleep or a dog stretched out, lying on the floor?  If so, notice their breath, notice what is moving? When the baby or the dog (any animal will do) is breathing, it is not their chest or their shoulders that are in motion.  Rather their belly, just below the rib cage and above the pelvis region, moves out with each inhale and in with each exhale.  Now think about when the doctor asks you or your child to take a deep breath, what do you do?  Most of the time, when asked to breathe deeply, we puff up our chests, raise our shoulders and suck in our stomachs, as we gasp in and then lower our chests and shoulders, and release our abdomen as we force our breath out.
This type of chest breathing is not our deepest or most natural breath.  It is not our best breath.  It is not the breath that we were born with.  It is not the breath that allows us to fill our whole lungs with that much needed oxygen.  Instead, it is our conditioned breath.  It is our response to years (and sadly only a few short years in children and teenagers) of teaching ourselves how to breathe incorrectly.  It is the result of stress, anxiety, worry and fear.  It is the result of losing that amazing ability that babies and animals have to not stress out.  They don't sit around stewing about something someone just said to them, or fearing failing at a new endeavor, or worrying about a child.  They are divinely connected to their inner calm.
So why do we resort to chest breathing so often, particularly in stressful situations?
Think caveman times. In caveman days, an important part of human survival was the fight or flight response, when we needed to sense fear and respond to it, so as not to be eaten by a lion.  It was a vital survival mechanism.  But in 21st century living, we are almost always far removed from an actual life or death situation, yet this fight or flight response is often triggered in our daily lives.  Once the fight or fight response is activated by a stress trigger, we may experience increased heart rate, rapid and shallow breathing, tensing of muscles (abdominal, chest, shoulders, etc.), perspiration, tingling in our fingers and toes, and digestive problems (just to name a few).  We may experience these when we can't find our keys, when we are running late, when we are worried about a child, when we make a mistake at work, or when we have to speak in front of a large crowd.  This physiological response to a perceived danger may have helped the caveman fight off a lion or run away from a charging tiger, but in modern times it usually does not save our life, but rather causes us great discomfort and dis-ease.  (Yes – disease, much more on that later.)
Chronic stress and the continual trigger of the physiological responses associated with the fight or flight response can lead to a restriction in the muscles surrounding the lungs, limiting the range of motion in the chest wall.  When the chest can no longer fully expand, the breath becomes shallow.  This chest breathing is much less efficient than belly breathing because it limits the amount of blood flowing in the lower lobes of the lungs, less oxygen transfers into the blood and poor nutrients go to the tissues.
Just by initiating good belly breathing -- slow, steady abdominal breathing -- you can greatly influence your body during stressful situations causing a stimulation of the parasympathetic nervous system resulting in a reversal of those negative physiological responses that can be so harmful to our health and well being.  Proper breathing helps to relax the muscles in the abdomen, chest, back, and all over the body.  Creating a greater passage for air to fill the lungs, allowing the diaphragm to fully expand and contract.
What we all experience each day, and have accumulated countless moments of throughout our lives, is the negative effects of the fight or flight response.  The good news is – you can relearn to breathe properly!  You can practice taking slow, deep, abdominal breaths and regain that amazing ability to reconnect with your calm, peaceful self, much like that sleeping baby.  (And by the way, sound sleep is an important byproduct of learning to breath properly)
Meditation and mindfulness are intricately related to the breath.  If you can sit still, and simply follow your breath as it moves in your nostrils, down into your lungs and abdomen, and back up and out your nose, guess what – you are meditating!  Simply by sitting still and paying attention to your breath (and only your breath), you are automatically clearing your mind.  That's all you need to do!  So, the first step to finding your inner peace and calm is to simply practice breathing.  I promise, if done correctly, you will feel better almost instantly.  The great news is that you can practice breathing anywhere, at a stop light, in a carpool pick up line, in the subway, in a movie theater, on an airplane, anywhere!  You have all of the tools you need with you at all times.  Pretty cool!
Many people pull breathing out of their bag of relaxation tricks when they are faced with a stressful situation.  I would encourage you not to save these breathing techniques for moments of stress and anxiety, but practice this breathing every day. Just as we need to train our muscles to run a race, we need to train our muscles to breath correctly. The amazing thing is, if you practice your breathing regularly, the benefits are incredible!  Not only can you avoid those nasty physical effects of the fight or flight response, you are actually creating a new, calmer and more peaceful you. The new you will have a greater capacity to shrug off many of those slightly annoying or even highly anxiety producing triggers of the fight or flight response. You may even find that the trigger that normally sets you off, may no longer bother you at all.  You can breath right through it!