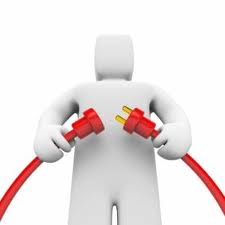 Yesterday, my computer stopped working.  I was sitting with many different screens open all at one time -- writing, researching, and communicating.   Suddenly, the computer screen completely froze.   The mouse wouId not budge and my heart slowly sank.  I began to panic.  Would I lose all of my work? Were all of my documents, pictures and what feels like the archives of my life gone forever?  I was desperate to save it all, and with no other ideas in mind to resolve the problem, I did what I try not to do at all costs – I called the computer help line.  I usually try to steer clear of calling for help because I so often get even more frustrated by the long waiting times before I can actually speak to a human being on the other end of the line, and because I fear that after a long ordeal on the phone they will conclude that they cannot help me. I decided that I had no other option.  So, I picked up the phone, dialed and was pleasantly surprised to find a very kind and helpful voice on the other end of the line after a not so terribly long wait.  He so gently assured me that he would do his best to help me figure this out.   I thought about how wonderful it was that there was some stranger out there who patiently and happily was willing to help me with my problem.  After going through a myriad of exercises to get my computer out of this frozen mess with no success, the kind gentleman on the other end of the line had one last suggestion.  He asked me to simply unplug my machine and let it rest quietly for a few minutes.  After all that we had tried, and the potentially devastating possibility that my computer was unfixable, was he really serious that the solution could be so simple?  I then remembered a few months back when my cell phone was doing very strange things and I was also told to simply turn the power off for a few minutes – let is rest.  In that case, and I soon found out in this case as well, that five minutes of quiet for my incredibly overloaded and overworked machine did just the trick.  It revved back up after a much needed respite and started up again, good as new.
Just like our laptops, desktops, cell phones, and smartphones, sometimes we just need to reset.  We get overloaded with information, overcome by the demands on our time, confused by the conflicting feelings and emotions running through our brains and overrun by exhaustion and the physical toll that all of this takes on our bodies.  We need to unplug, to reset, to spend a few minutes in quiet and stillness.  Sometimes just focusing on our breath, on how the simple, natural breath feels in our bodies, is just the reset we need to recalibrate.  In doing simple breathing meditations, we find our calm center and peace of mind and body that will help us restart and continue on our path.
It is so important to pay attention to our physical clues as well, which are often less obvious than the complete shut down of a frozen computer screen.  Our bodies have a way of telling us that we need a reset.  Whether it is tension, muscle ache, pain, stomach upset or fatigue, often our bodies are telling us that we are overloaded and that we need a break in our circuitry, a reset.
It amazed me how my computer, which is so complex and has so much power in helping me to create, to communicate and to learn, could benefit from a simple reset.  Just like our bodies and our minds, which are so incredibly complex, and which hold the ultimate power in creativity, learning and love, we all need a little reset once in while to reconnect with ourselves and that inner calmness that we all have inside.  We just need to unplug from the external stimuli for a bit, take a break from the internal chatter of our minds, and reconnect to that calm, peaceful stillness that is deep inside us all.
The man on the other end of the line suggested that I turn my computer off periodically to prevent this overload from happening again.  I am taking his advice.  Great advice for my computer and myself.  So, just turn it all off for a minute or two, or twenty each day.  Avoid the frozen screen and reset.  Simply breathe.   It is amazing what this can do for us all.