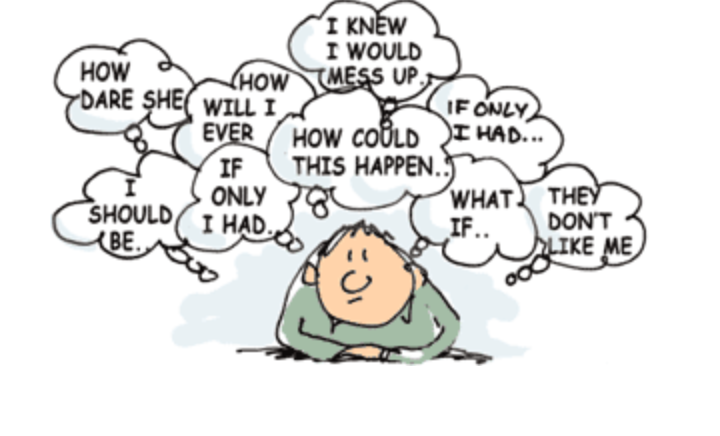 When I asked a group of children recently what they thought mindfulness meant, one young girl replied, "It means that our minds are full." I then asked, "What are your minds full of?" She replied, "Thoughts. Lots of thoughts. I always have thoughts running around my head." The other children in the class agreed. Intrigued, I asked, "What are the thoughts you have running around in your head?" One by one they answered. "Worries. I am always worrying," said one boy as others nodded their heads in agreement. "I am always thinking about all the homework I have and about how I am going to get it all done," said a wide-eyed girl with a look of frustration on her face. "Me too!" said her neighbor on the carpet. What occupies your mind?
When we take a good look at what occupies our minds, we start to notice that much of what we are thinking about  is not actually happening right now. Most of our mental gymnastics involve thoughts about what has already happened or thoughts (and worries) about what might happen. Studies have shown that we spend at least fifty percent of our time thinking about things that are not actually happening at all, and most of those thoughts are unpleasant. In addition, we often tell ourselves stories about what is happening that simply are not true.
An example . . . we text a friend and she does not respond.  While waiting for her response, we begin to worry.  She always answers quickly, we think.  Why hasn't she responded?  Is she OK?   Should I call a friend to check on her? Was there something I did to offend her?  Is she mad at me?  What could I have possibly done?  Then, we plan what we will say when she finally does call.  We spend time and energy creating stories in our minds, and creating nervousness and anxiety that we can feel in our bodies.  Finally, a response.  She is fine.  Her phone had died.
Despite the children's confusion between "mind fullness" and "mindfulness," the word mindfulness really means awareness. The goal of mindfulness is not to get rid of thoughts. We are human and humans have thoughts. In fact, many thoughts can be quite helpful, necessary and pleasant.  We need to plan, to create, to organize.  The evolution of our ability to think has helped us evolve and adapt to our environment and to survive.  However, the evolution of our thoughts may have evolved to a point of becoming unhelpful and even detrimental to our wellbeing.
Can our thoughts actually make us sick?
The beauty of mindfulness is that it helps us become aware of our thoughts and begin to recognize our thoughts for what they are - just thoughts.   Without this awareness, we consider our thoughts to be facts, they become our reality. We even identify personally with our thoughts and think we are our thoughts.   We often get so caught up in our thoughts, overwhelmed by them, believing them to be true, that we suffer the physiological consequences often caused by our thoughts, chronic stress and anxiety, and all of the serious, negative effects stress has on our bodies, which can literally make us sick.  The amazing thing to realize is that thoughts are not real and the stress that often accompanies them is unnecessary.
Thoughts are just thoughts.  You don't have to believe them.
Mindfulness helps us create a space between our thoughts and ourselves. We can begin to see our thoughts for what they are – just thoughts – not who we are and not what is actually happening. This awareness helps us to stop putting ourselves through an imaginary obstacle course in our minds.  We can begin to quiet the noise in our heads, no longer feeling overwhelmed by all those thoughts.
Many who begin to practice mindfulness meditation try to silence their thoughts and quickly realize that this is a futile exercise. Thoughts just arise. The more we try to stop them, the more frustrated we get. Instead, in mindfulness practices we learn to simply observe our thoughts as they come and go, and not allow our thoughts to take over.
Our thoughts are just a lens through which we see the world.   They are the product of our life experiences. We can begin to understand that we don't see things as they are; we see things as we are. Once we recognize this, we are free from the power our thoughts have over us.  We can observe our thoughts and better understand which thoughts are helpful and which thoughts do not serve any useful purpose.  Only then can we truly free ourselves from our thoughts.  We simply learn to observe them.
Listen to your thoughts, but don't take them so seriously.
It is incredibly liberating and freeing to recognize that in every moment of every day we have a choice. We can choose how we wish to see the world. By taking a step back and simply observing what is going on in our minds, we can begin to detach from the grip of our thoughts. We can see our thoughts, but we no longer have to believe them.   Then, we become more aware of what is actually happening, as it is happening, and be more present for it.
Try this at home:  Mindfulness of Thoughts
Take a few minutes during your day and begin to notice your thoughts.  Here is how:
Ask yourself, "What am I thinking about?"
Once you begin to notice your thoughts, try labeling them: planning, worrying, organizing, day dreaming, judging, etc.
Then, ask yourself, "Is this actually happening right now?"  Begin to notice throughout your day when you are fully present with what is actually happening and when your mind takes you somewhere else.  The first step in raising your awareness and becoming more present is to begin noticing your mental habits.  Notice when your mind drifts off in thought, taking you into the past or the future.
Don't judge yourself or label your thoughts as good or bad.  Instead, just be curious and more self-aware.